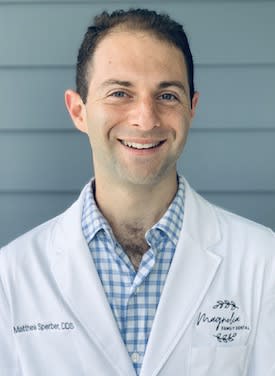 Matthew Sperber, DDS
Dr. Matt first became interested in Dentistry at a young age. His mother, despite having excellent oral health, has had about every dental procedure in the book, many of them more than once. Dr. Matt often accompanied her dental appointments growing up and was conflicted by his growing love of dentistry and his mother's growing hatred of the dentist :). His love for dentistry won and Dr. Matt went on to obtain his Doctorate of Dental Surgery from Columbia University. His desire to perform comprehensive general dentistry led him to complete his General Practice Residency at Newark Beth Israel, where he saw a high volume of medically and dentally complex cases. Dr. Matt has also completed advanced training in implant placement, root canal therapy, and invisalign. In order to win his mother over he became involved in research aimed at reducing anxiety in dental patients and is passionate about putting nervous patients at ease. After completion of his residency, he relocated to South Carolina where he has been practicing in a busy private practice.
Dr. Matt and his wife, Lauren, have a new daughter, Allie, and two dogs, Mimi and Molly. They love exploring their community, cooking, running, and soaking up the South Carolina sunshine. Dr. Matt is also an avid skier, although it may be time to trade in his snow skis for water skis. He loves getting to know his patients and learning about their lives in addition to their dental concerns.